7.1 Earthquake Shakes Kenai Peninsula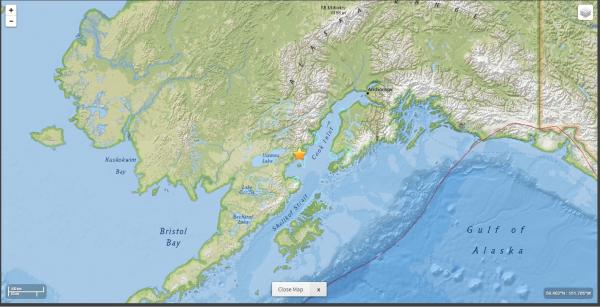 12:30 pm update: Over 4,000 Kenai Peninsula residents got their power back when Homer Electric Association crews restored a substation knocked out by a magnitude 7.1 earthquake that struck 60 miles west of Homer early Sunday morning.HEA's Joe Gallagher says Nikiski residents saw the majority of the outages. 642 Kasilof residents also saw power restored by 6:40 am Sunday morning.
Gallagher says 128 HEA members near the Kenai airport are still without power. HEA also won't restore power to the Lilac Lane area in Kenai until they get approval from the Kenai Fire Department and Enstar Natural Gas. There have been reports of fire and gas leaks in the area.
4:00 am update: A magnitude 7.1 earthquake struck 60 miles west of Homer, Alaska near the Kenai Peninsula early Sunday morning.
The earthquake struck at 1:30 a.m. Alaska time. Michael West is the state seismologist with the Alaska Earthquake Center in Fairbanks.
"At 1:30 Alaska time, a magnitude 7.1 earthquake occurred in southern Cook Inlet at a depth of about 75 miles beneath the surface," said West.
The quake knocked things off shelves in homes but there are no reports of major damage. Thousands of people are experiencing localized power outages in a wide area of Southcentral Alaska. There were reports of outages from the Kenai Peninsula, in Anchorage and in the Mat Su Valley. The quake was felt as far away as Fairbanks and Juneau.
Update to orignal story: Homer Electric Association is responding to power outages caused by a 7.1 magnitude earthquake that shook the Kenai Peninsula this morning. According to Joe Gallagher with HEA Bernice Lake substation in Nikiski is off line. 4,150 HEA members lost power. A circuit at the Kasilof substation was also knocked out leaving 642 HEA members without power.
This is a developing story. The original story is below.
A 7.1 magnitude earthquake struck 52 miles east of Old Iliamna at 1:30 am Sunday morning. According to a preliminary report from the U.S. Geological Survey the quake had a depth of 79 miles. The National Weather Service reports there is no tsunami warning in effect for Alaska, British Columbia, Washington, Oregon and California.