Another ethics complaint filed over recall
A new ethics complaint has been filed in relation to Homer's recent recall election. Three Homer City Council members were up for recall in June, but all three retained their seats. The complaint argues that the council members should have recused themselves from certifying the election results.
Larry Zuccaro, one of the original petitioners that sought the recall, filed the complaint on July 31 against council members Donna Aderhold, Catriona Reynolds and David Lewis. Ethics complaints are required to remain confidential, but the council members waved their right to a private hearing, making the matter public.
The state Office of Administrative Hearings assigned an administrative law judge to be a hearing officer in the case, a process specific to cases involving city council and borough assembly members or mayors.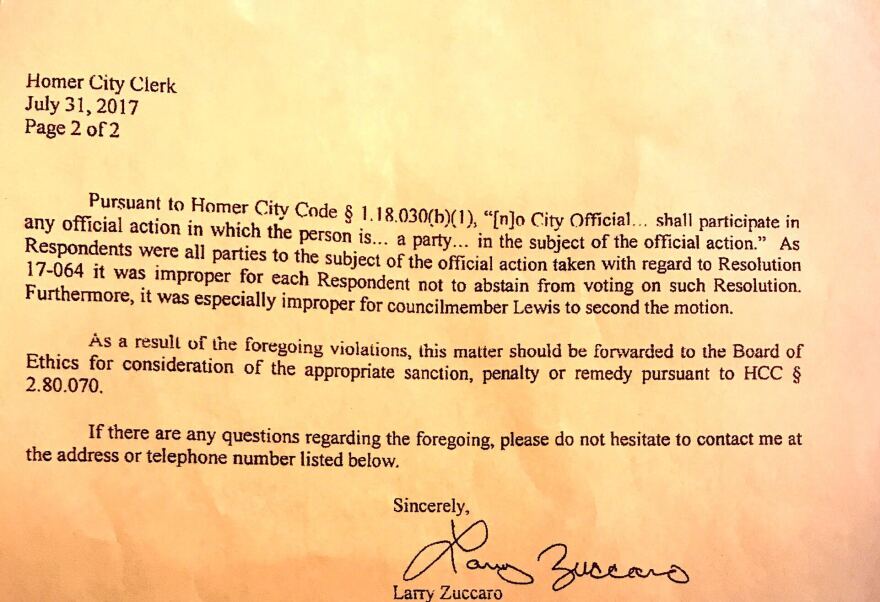 Council member Aderhold said she was made aware of the complaint in late August and that all three council members met with the hearing officer on Sept. 15.
"It was during that conference that we waved confidentiality," she said. "We waved confidentiality because we believe this is an important issue to be able to clarify for council members moving forward and for the community to understand."
Both parties are set to file briefs arguing their case on Oct. 2 and each will have an opportunity to respond to opposing briefs later that month. Both sides will reconvene with the hearing officer on Oct. 19, and an official decision is required by Oct. 29.
Elected officials found to have violated Homer city code can be subject to a range of consequences, from a private reprimand to vacating their seat.
When it comes to certifying elections, City Clerk Melissa Jacobsen said city code states that the council is required to certify election results given to them by the canvass board.
"It doesn't differentiate between special elections, or recall election, or runoff elections," Jacobsen explained. "The city council certifies all elections."
The council also would have not had a quorum if all three council members recused themselves from certifying the results.
The case follows a previous identical complaint that was filed by Heartbeat of Homer, the pro-recall political action committee, on July 3.
Heartbeat shared documents detailing the complaint with KBBI via email, but it could have been thrown out because the documents were shared, violating the confidentiality requirement. KBBI filed an information request with the city clerk's office in late August to check on that case's status, but the request was denied.
Zucarro could not be reached for comment in time for this story.