Judge throws out final recall complaint
An ethics complaint filed in relation to Homer's recall election this summer was thrown out Friday.
Larry Zuccaro, one of the original petitioners that sought to recall three Homer City Council members in June, filed the ethics complaint on July 31 against council members Donna Aderhold, Catriona Reynolds and David Lewis.
Homer residents voted in favor of each member retaining their seats, but the complaint argues that the council members should have recused themselves from certifying the election results.
The state Office of Administrative Hearings assigned Administrative Law Judge Andrew Lebo to serve as a hearing officer. Lebo said in his final decision that Zuccaro's compliant "is without merit in all respects."
Council member Aderhold said the ruling reaffirmed the city's process.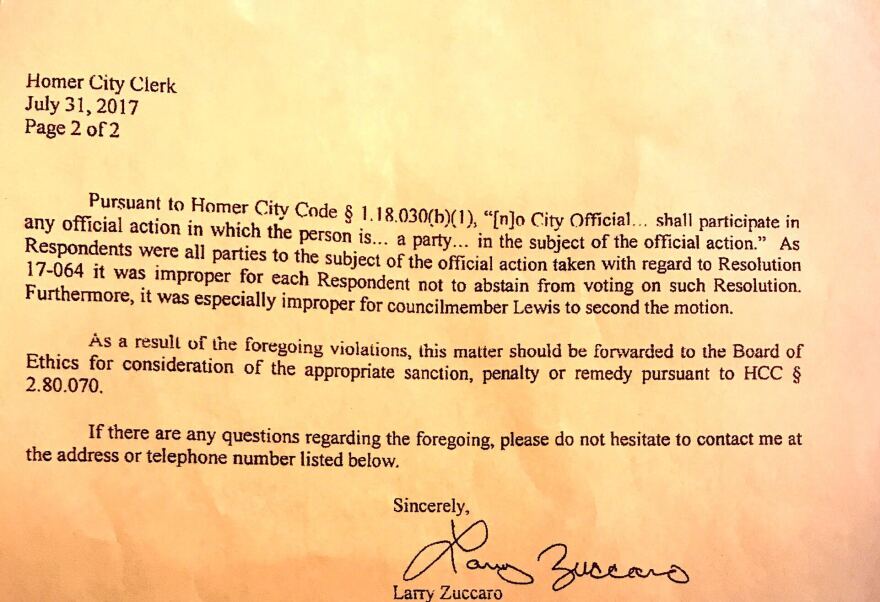 "This basically said yea, we were following city process and that we committed no ethical violation and we were following our duty as council members," Aderhold said.
City code requires the city council to certify election results after the canvass board tallies and confirms the vote count.
Judge Lebo said certifying the results is a ministerial duty and he notes that Homer's process is similar to several other municipalities. Aderhold added that she wants to make that clear for future reference.
"Those are things as a council member I'll be looking at ways to just make that clearer to the public and to future councils and to the clerk and all concerned, that this is the process that we follow," Aderhold explained.
Zuccaro could not be reached for comment in time for this story.
This is the second compliant filed over the recall. The first was filed by a pro-recall political action committee, but was later thrown out after the group made the complaint public. Ethics complaints are required to remain confidential, but the council members waved their right to a private hearing, making the second complaint public.
Editor's Note: This story has been expanded to reflect comments from council member Donna Aderhold.