Afrofuturist comic artist David Brame dives into surrealism in exhibit at the Bunnell, open through March
"Dusty Funk" or "the Funkiverse" is a world of comic arts storytelling, surrealism and metaphorical space created by the artist known as the Amazing David Brame. He's an Afro-futurist, educator and mixed media comic artist based on the Kenai Peninsula, and his exhibit is up now at the Bunnell Street Arts Center in Homer for the month of March.
He debuted his new show at a First Friday event, where a few dozen people gathered for the opening. He said it marries his commercial comic book artist work and the surreal side of his creativity.
"So Dusty Funk was sort of the opposite of that. It's like pure playfulness," he said. "But also the idea of trying to work out, sort of my own problems with art, with race, with identity, with sexuality, with all of these things. So that place was a sort of a refuge, like it was a really wonderful place to play."
It's the final installment in the Dusty Funkaverse installation series, composed of comics, poetry and paintings about queerness, depression, sobriety and addiction. Brame says one of his inspirations is the work of filmmaker and artist David Lynch.
"Everything that you experience is like layers and layers of ideas and sort of depth to what you're seeing. So it's not just like these words mean these things, but think about how they're the words themselves connect with the imagery. Or connect with even the shapes of the panels and all that kind of stuff. It all leads to sort of wild metaphorical, like, ghost ride. It's a fun space," he said laughing.
The bold surrealist images evoke dark pain and struggle, and the lightness of change and shifting realities. There's an alien served at an intergalactic bar, and panels of poetry and characters combine to express sobriety, and falling into intoxication.
"Birth, living, decay, death, and then rebuilding from beginning, over and over," he said. "And it kind of shows itself some of the stuff about plants, and some of the stuff about relationships. So it's like, a big melange of all that."
He says he enjoys sharing his surrealist art with the public, offering visual storytelling, metaphor and different modes of creative expression.
"For me, it's a lot easier, because I think words are clunky. And that's something I use in a lot of this. I think you can use languages to be dishonest while telling the truth. You can use it to make terrible things sound great. Or the opposite, things that are amazing, you can downplay them if you want to. So I think the work that I make is immutable. So you have to sort of take it for what it is and how I present it to you," he said.
Brame is a member of the 'Łuk'ae Tse' Taas' or "Fish Head Soup" Alaska comic collective honoring Indigenous cultures — also in-residence this month at the Bunnell Street Arts Center.
They gave a live workshop at the Homer Public Library in early March, and he said that's where he sees impact, like one kid who responded to his work.
"He ran up to me, as I was walking around putting away some books or something, and he's just like, 'Hey, I'm so happy that you are putting up the work that you put up here.' So in a way, that's kind of what I like about this space or spaces like this [in Alaska]. I've shown in places like Toronto, New York, Brooklyn, at the Met, and I've been to big bougie, people-in-the-know type of art spaces. But when you're kind of like, on the edge of the earth [in Alaska], and everybody is supposed to be one way, but you're like, 'I'm a different type of way,'" he said laughing. "I'm compelled to be different, I guess, to go out and do it. And kind of not care."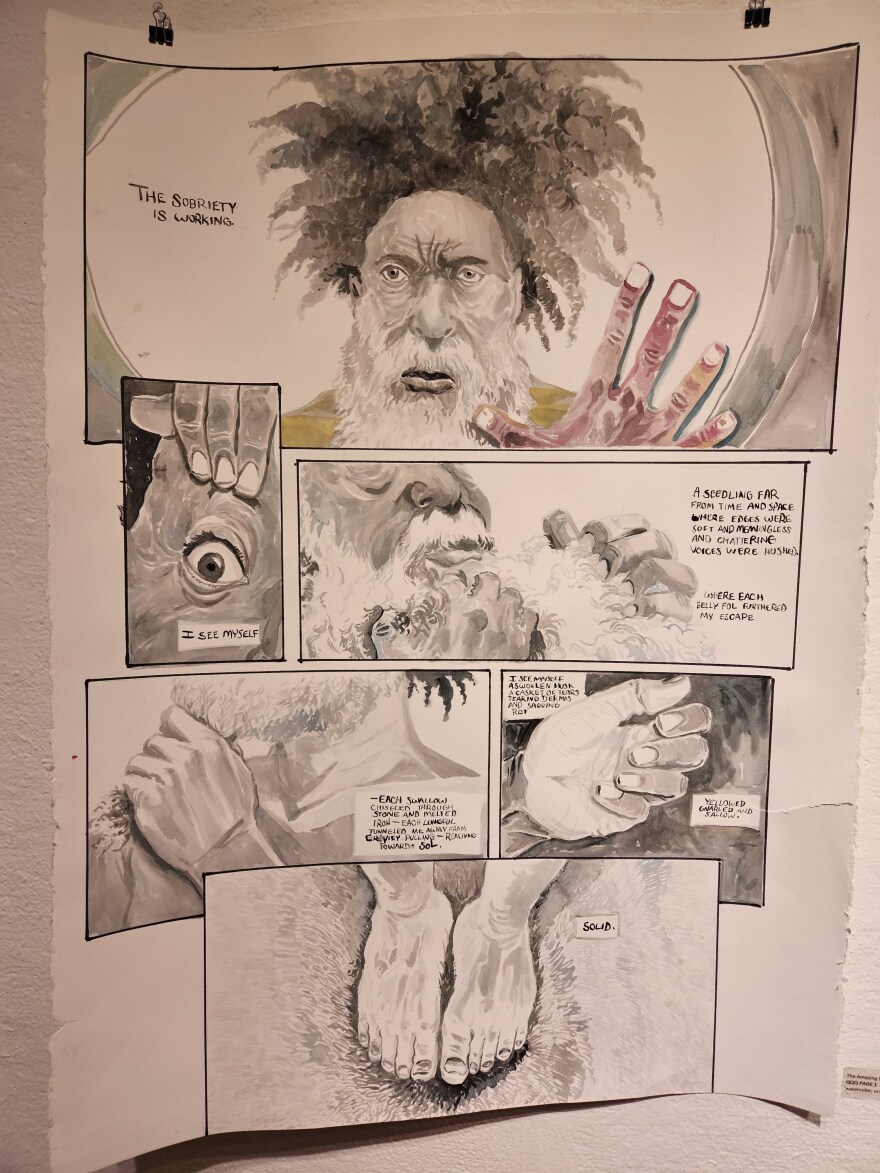 Brame and members of the Fish Head Soup collective are working on a show to be exhibited at the Anchorage Museum later this year. He also just completed the artwork for a new original graphic novel with award-winning storyteller and young adult fiction author Greg Neri, due out next year.
You can check out David Brame's work on his Instagram page @amazingdavidrame. If you're in Homer, see it in-person at the Bunnell Street Arts Center through March.